See some of the total 11224 jumps, which were jumped, when the Spring Mod Vest truck drove through Denmark from Copenhagen to Esbjerg. In the video the truck had reached Tåstrup.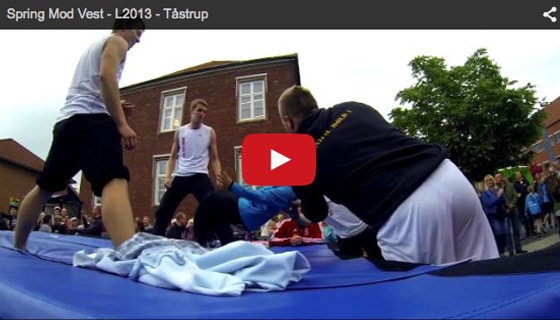 Filmed / Edit by
Caroline Illemann Hansen
Se nogle af de i alt 11224 hop, som blev sprunget, da "Spring Mod Vest"-lastbilen kørte gennem Danmark fra København til Esbjerg. I videoen var lastbilen nået til Tåstrup.
Spring Mod Vest er et projekt lavet af Big Splash (samarbejde mellem Taastrup Gymnastik Forening og Foreningen Salto City), støttet af Landsstævnet 2013 samt DGI.
Spring Mod Vest, også kaldet trailertramp, er en mini-trampolin monteres bag på en lastbil med sættevogn/trailer. Trampolinen har samme vinkel og højde, som normalt, når den står på jorden blot hævet ca. 15 cm, så den ikke rører jorden når vi kører. Der er indbygget "modtagerbro", på begge sider af rammen, så instruktører kan stå som sikkerhed.
På sættevognen ligger en 3x5m nedspringsmåtte.
Lastbilen kører med en hastighed på 5 km i timen imens gymnaster springer op på lastbilen.
På Lastbilens forreste del opstilles musikanlæg og højtalere samt Discolys og digital trip tæller der registrerer antallet af springere der hopper igennem hele eventen.
Spring Mod Vest – Facebook page>>
See also a picture from Spring Mod Vest at my Intro page>>
(News 73 – Europe)