See video click play button above.
English / Danish
20 gymnasts from Bramming Idrætsforening Gymnastik. Showed their great tumbling and trampoline jump in terrific weather during the Culture Night in Bramming.
Normally, they are 52 gymnasts at Sommerspring 4 class +, and The team practices 10 times before the summer holidays.
20 from the group took time off to participate in the Culture Night's show.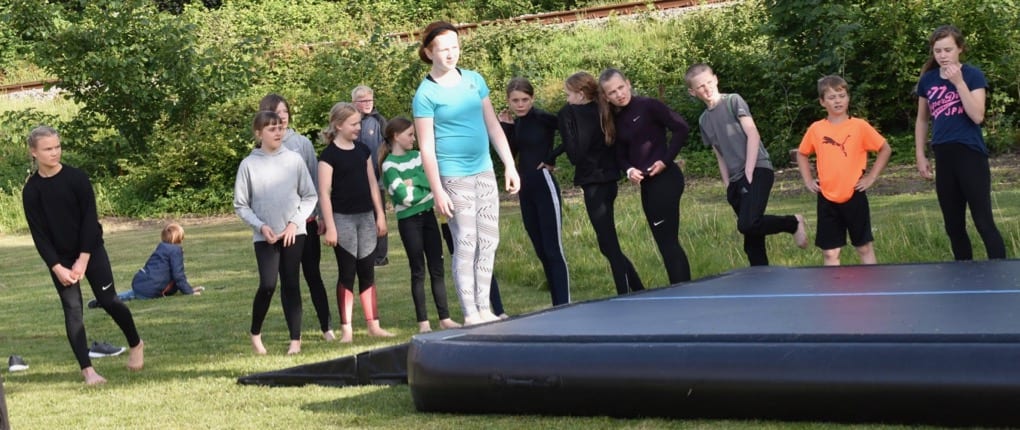 Their effort would not have been possible without their volunteer coaches, Laura Lihme, Lena Holm Thomsen, Jeppe Thodsen, Glenn Lautrup and not least because Søren Herold (Coach from Ungdomsmix – Spangsbjerg IF) brought his trailer and car and shipped the equipment back and forth in cooperation with the coaches.
Many thanks to
Summer jump 4kl +
Bramming Idrætsforening – Gymnastics
20 gymnaster fra Bramming Idrætsforening Gymnastik. Viste deres flotte bane spring og trampolin spring frem i forrygende vejr til Kulturnatten i Bramming.
Normalt er de 52 gymnaster på Sommerspring 4 kl. +, Holdet træner 10 gange inden sommerferien.
De der havde lyst kunne deltage i Kulturnattens opvisning.
Det hele kunne ikke lade sig gøre uden de frivillige trænere Laura Lihme, Lena Holm Thomsen, Jeppe Thodsen, Glenn Lautrup og ikke mindst fordi Søren Herold (Træner fra Ungdomsmix – Spangsbjerg I.F.) kom med trailer, bil og bragte redskaberne frem og tilbage i samarbejde med trænerne.
Mange tak til
Sommerspring 4kl+
Bramming Idrætsforening – Gymnastik
News 112